The Green Economy Forum and Exhibition taken place at THISO Skyhall from November 28th, 2022 to November 30th, 2022 is a leading event with high-level conference sessions and well-organized booths covering many sustainable development aspects such as renewable energy, smart city, sustainable agriculture, circular economy, green tourism and water conservation treatment. The event, which attracted more than 5,500 visitors and more than 1,000 audiences to conferences, was considered by the Vietnamese Prime Minister – Mr Pham Minh Chinh as a rare opportunity for Vietnamese businesses to access to green solutions and technologies from Europe.
Among many concerned topics organized by the European Chamber of Commerce in Vietnam (Eurocham Vietnam), 4 seminars about "Ways out of the water crisis" which took place on November 29, 2022 are the most interested ones to distinguished guests (individuals, businesses and organizations operating in the field of water treatment and sustainable development). CEO of WASOL Corporation, Mr. Nguyen Dinh Quy (Henry) is honored to attend and share his knowledge and experience with leading experts in the field of global water treatment from Vietnam and European countries about "Desalination: A solution for the Mekong Delta?" in the afternoon session.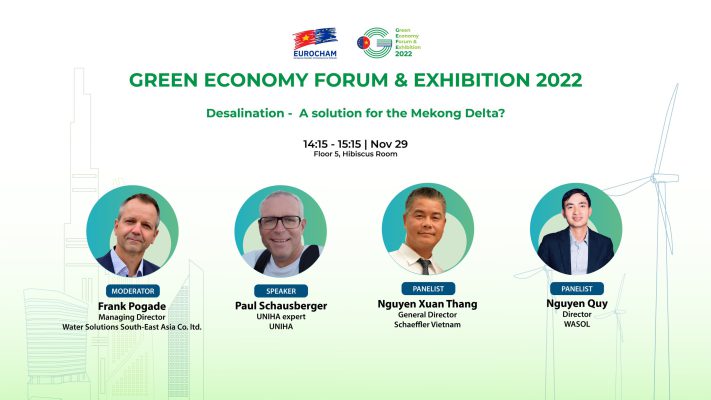 A lot of useful information about desalination technology was updated and shared from the experts, analyzing advantages and limitations when applying in Vietnam as well as in the Mekong Delta region with its own characteristics of high dispersion demand and seasonal variation of salinity. However, experts confirmed that the progress in research and development desalination technology applications, both in terms of technical and financial aspects, especially the reverse osmosis (RO) membrane technology that helps to bring in this area highly feasible solutions in the near future.

WASOL Corporation, a leading design and build EPC contractor and water treatment expert in both  industrial and municipal market, would like to thank our valued customers and partners for your interest about the panel in particular and this event in general.
Wishing you have a good health, happiness and success as always!